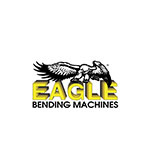 WHY BUY EAGLE?… Eagle was established over 20 years ago to provide a higher quality Roll Bender, Faster Deliveries and Superior Service. Eagle is 100% American owned and proudly maintains the original goals. Eagle has placed over 5,500 machines in North America, PROOF that our Section Rolls and Service are highly valued by fabricators, metalworkers and manufacturers nationwide. Our Section Benders incorporate Unique Features and Superior Quality not found on look-alike machines. Discover the "Details" and why EAGLE Benders are trusted daily to provide years of Profit Producing Performance.
Please contact us for a free on-site consultation.
Metalfab, Inc. provides our customers with solutions to their manufacturing needs. We look forward to examining each metalworking application and developing the most efficient, cost effective method for production. Whether the solution is new or used machinery, application software, lean manufacturing, tooling or service, Metalfab will work for you to determine the best method.