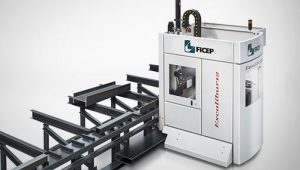 T
he Ficep Excalibur 12
is uniquely different than all other single spindles CNC drill lines currently on the market.  This new product line features an exclusive secondary "X" axis with improved accuracy and productivity as it is not necessary to unclamp, reposition and re-clamp for each "X" axis (length axis) movement.
This capability also permits scribing on all four surfaces to eliminate all manual layout which can be automatically imported from such CAD systems as SDS2 as a DSTV file or Tekla in the form of an XML file. The secondary axis also provides the ability to generate slotted holes, copes and large holes that exceed the maximum capability of the Excalibur 12.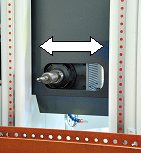 The Excalibur is also furnished with a ball screw spindle feed that features a 25 HP direct drive spindle design that generates up to 3,000 RPM to use carbide tools to their maximum capability.
Once the spindle is at the programmed position, top and bottom internal clamps quickly secures the material as the drill positions to the programmed gauge line and commences drilling.
The versatility of this CNC system can be exhibited when processing the following typical applications:
Flange drilling
Web drilling
Automatic sequencing from one section to the next
Angles
Plate detail
Structural tubes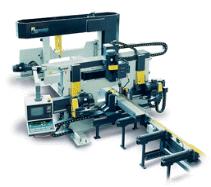 The 
Orient 12 Model 1201 DZ

CNC drill line processes material in a 
conventional fashion as the sections are positioned automatically to the
required length dimension along the infeed and outfeed conveyor. The single or dual spindles of the 1201 DZ automatically rotates up to a full 180 degrees in less than one second to accommodate any hole requirements
in either flange or the web.
Five different models of stand-alone CNC controlled multi spindle drilling lines are produced by Ficep Corporation for the fabrication of structural steel. Some of the features include:
Rack and pinion positioning and measuring achieves an accuracy level 

that is second to none

Automatic stock length measuring before the section is processed

Ball screw spindle feed with uniform feed rate for exceptional tool life and the ability to mill for slotted holes, countersink, tap, and scribing
Spindle speeds up to 3,000 RPM to maximize the utilization of carbide tools for drilling rates 4-6 times that of typical oil hole drills
The drill spindle and head feed as one unit for maximum rigidity
Automatic tool changing on each spindle
Can accommodate typically 6 different spindles
Laser measuring system measures the tool length automatically
The software automatically changes the required feeds and speeds based upon the tool that is loaded into the spindle.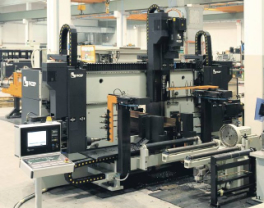 Stand Alone Multiple Spindle Drilling Lines
Ficep Corporation produces five different models of stand-alone CNC 
controlled multi spindle drilling lines for the fabrication of structural steel.
For more information, contact Metalfab, Inc., or visit www.ficepcorp.com.
Please contact us for a free on-site consultation.
Metalfab, Inc. provides our customers with solutions to their manufacturing needs. We look forward to examining each metalworking application and developing the most efficient, cost effective method for production. Whether the solution is new or used machinery, application software, lean manufacturing, tooling or service, Metalfab will work for you to determine the best method.