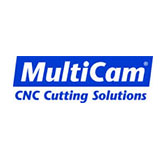 FROM HIGH-PERFORMANCE VALUE TO ULTIMATE HEAVY-DUTY
VERSATILE PERFORMANCE FEATURING THE BEST VALUE IN THE INDUSTRY!
MultiCam manufactures a variety of space-saving moving gantry CNC routers. Each series is available in various sizes to meet your specific application requirements. Add-on options include high-frequency spindles, tool changers, gang drills, vacuum tables, aggregate heads, saws, knives, and much more.
Regardless of the type of cutting you need done, Multicam has a CNC router that makes a perfect fit (and cut). With repeatability of just 1/1000th of an inch, you get an accurate cut every single time. Every router comes with customizable options, with the 7000 and 3000 having the most customizability.
The 7000 series allows you to cut the largest pieces, while the 5000, 3000, and 1000 come in smaller sizes better fit for smaller production facilities. Various series fit a broad range of applications, which includes the 7000's ability to cut plastics and non-ferrous metals, the 3000's strength for marine fabrication, the 1000's fit for aluminum fabrication, and the V-Series' fit for aerospace applications and 3D carving.
Some series (the 8000, 7000, 5000, and 3000) have higher power, cut speeds, and rapid traverse speeds for fast and efficient cutting. Other series, like the 1000 and V-series, have slower cutting speeds that allow for greater precision.
All routers come loaded with Multicam's proprietary, and easy-to-use software, so it'll be simple to start cutting with extreme precision right away. With more than 12,000 CNC machines installed worldwide since our founding in 1989, you're sure to find the perfect CNC router for your needs. Every CNC router is built in the USA, so you know you get high-quality and durable routers that consistently perform exactly the way you need.
APPLICATIONS
3D Carving
Acrylic Fabrication
Aluminum Fabrication
Architectural Millwork
Aerospace
Cabinetry
Exhibits and Fixtures
Sign Making
MATERIALS CUT
Acrylic
ACM
Copper
Brass
Aluminum
PVC
Foam
MDF
ROUTER OPTIONS
Full range of table sizes (2′ X 2′ to 10′ X 60'+)
Vacuum tables and pumps for easy part fixturing
Wide range of spindle options (4 HP to 20 HP)
Automatic tool change (ATC) spindles
Digital AC servo for high-speed/acceleration cutting
Gang drills for in-line boring
THIS CONTROL
MultiCam EZ Control makes it easy to manufacture high-volume quality products in record time. As one of today's most powerful, user-friendly motion control systems, EZ Control features:
Hand-held operator interface with graphic icons
12MB memory with unlimited file-size transfer capabilities
Multiple home positions
THE BOTTOM LINE
Boost profits and produce accurate parts without accumulating waste, excess labor, and extended lead times – that's our mission behind automating the cutting process. By providing you with the best CNC value and customer service in the industry, we support your company's success 100%. With 60 Regional Technology Centers around the world, you can find a MultiCam spare parts inventory and factory-certified technicians near you for exceptional post-sale training, service, and application troubleshooting.
Please contact us for a free on-site consultation.
Metalfab, Inc. provides our customers with solutions to their manufacturing needs. We look forward to examining each metalworking application and developing the most efficient, cost effective method for production. Whether the solution is new or used machinery, application software, lean manufacturing, tooling or service, Metalfab will work for you to determine the best method.