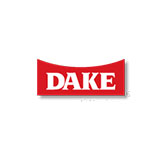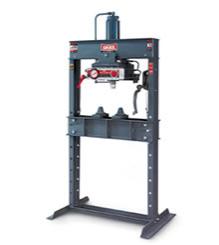 H-Frame Presses
Dake offers hand, air, and electrically operated H-frame presses in 10 to 200 ton capacities, in single- and double-acting models. These presses are ideal for assembly, straightening, fabrication, quality control, maintenance, product testing, bending, forming, punching and shearing. Press frames are constructed of heavy-duty arc-welded steel and can be easily modified to accommodate a wide range of pressing needs. Steel cylinders are fabricated of heavy-walled tubing, which is seamless to prevent leaks and is roller burnished on the ID to ensure long packing life.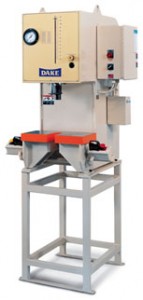 Bench Presses
C-Frame
High speed, low cost, and ready for any press work you can imagine 4, 8 and 12 ton models
Features:
Adjustable return stroke, activated by proximity switch, permits accurate control of ram movement.
Light-sensitive thumb pads must be engaged simultaneously before ram will move and cannot be mechanicallly by-passed.
Hydraulic cylinders are manufactured to withstand 3,000 psi, but are used at less than 2,000 psi to prolong service life.
Remote pressure adjustment easily sets maximum pressure desired.
Run-jog selector allows fast, easy job set-up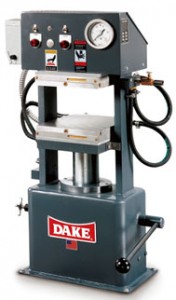 For compression molding, laminating, testing and more.25, 50 and 75 ton models.
Features:
Electric platens: The self-leveling, electrically cooled, precision ground steel platens are pre-wired into the control panel. Heating elements are replaceable.
Hydraulic system: A unique pump design provides a rapid advance of the ram utilizing the high volume-low pressure portion of the pump. When the down stroke of the pump lever is used, the pump automatically converts to the high pressure-low volume output providing accurate control and easy operation. The carefully – constructed hydraulic system enables the press to hold pressure for extra long periods of time. The release valve on the side of the press enables the operator to adjust the pressure accurately as well as accomplish gradual decompression or fast opening of the press.
Control panel: A conveniently-located panel at the top of the press is isolated from the press and is cooled by an air space between the housing and the upper platen. All electricals are mounted on a common plaque for easy servicing.
Precise temperature control: Each platen has its own complete set of controls including adjustable thermoswitch, built-in thermometer, power switch and pilot light. Temperatures are accurately controlled from 100˚ to 600˚F.
Two position ram: A removable adaptor is placed between the self-leveling platen and the ram. By removing the adaptor, a greater daylight dimension is available.
Please contact us for a free on-site consultation.
Metalfab, Inc. provides our customers with solutions to their manufacturing needs. We look forward to examining each metalworking application and developing the most efficient, cost effective method for production. Whether the solution is new or used machinery, application software, lean manufacturing, tooling or service, Metalfab will work for you to determine the best method.