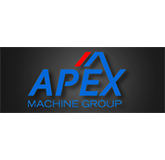 Apex Machine Group offers high-quality abrasive sanding machines and supplies for processing a variety of wood metal and plastics. Standard machines are built for stock and may be used for common applications. Apex also manufactures machines which can be custom built to maximize your production needs. Apex supports a working R&D lab for processing samples to ensure your application requirements can be met. Please contact us for providing the best solution to your deburring or finishing needs.
Please contact us for a free on-site consultation.
Metalfab, Inc. provides our customers with solutions to their manufacturing needs. We look forward to examining each metalworking application and developing the most efficient, cost effective method for production. Weather the solution is new or used machinery, application software, lean manufacturing, tooling or service, Metalfab will work for you to determine the best method.