Geka offers the most extensive selection of Ironworkers on the market. From single cylinder machines to the most automated systems available.
Want to see a demonstration?
We can have a demo truck come to you!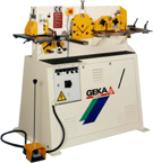 Geka Microcrop 40 Ton Ironworker

offers 
punching, plate &
 angle shearing, and built-in notcher.
Geka Minicrop & Bendicrop  50 Ton Ironworkers
offer punching, plate & angle shearing, notching, and bending.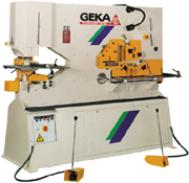 Geka Hydracrop Dual Cylinder Ironworkers

range from 60 Tons to 240 Tons of 
punching capacity, up to 8 x 8 x 3/4 angle shear capacity, up to 30″ x 3/4″ plate shear capacity, channel shear station, and built-in notching station. Machines can also be equipped with gauging tables and electric, automatic backgauge.

Geka Single-End Punches

range from 
55 to 250 Tons and feature throat-depth up to 30″. Both manual and CNC gauging tables can be provided.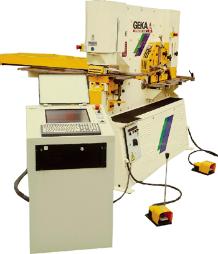 Geka Semi-Paxy CNC X-Y Positioning Tables

bring 
automation to the Geka Ironworkers. This system eliminates the manual layout for hole-punching applications, such as base plates and clip angles. Fagor control allows for storage of repeatable jobs.

Standard 40″ X-axis can be extended to 216″.
Please contact us for a free on-site consultation.
Metalfab, Inc. provides our customers with solutions to their manufacturing needs. We look forward to examining each metalworking application and developing the most efficient, cost effective method for production. Whether the solution is new or used machinery, application software, lean manufacturing, tooling or service, Metalfab will work for you to determine the best method.